SUNFLAG STEEL uses the (Sponge Iron + Hot Metal from MBF+ Plant Return Scrap)–Electric Arc Furnace–Ladle Refining Furnaces—Vacuum Degassing –Continuous casting machines –Rolling mills route, backed up by the state-of-the-art technology and computerized process control.
The production facilities include: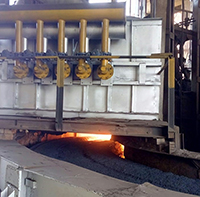 Sinter Plant (SINTER):  A 33 M2 sinter plant, designed by Beijing Sino-Steel Industry & Trade Group Corp.(SSIT) and Jiangsu Province Metallurgical Designing Institute (JSMDI) Co. Ltd. The technology is based on principle of economical, applicable safe and operational. The annual production is 3,64,000 Tonnes.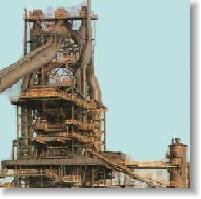 Mini Blast Furnace (MBF):  A Blast furnace of working volume 350 M3 designed by MECON Ltd. to produce 3,00,000 MT / annum of basic grade hot metal has been installed and sucessfully commissioned. The hot metal is mainly used in the steel melting shop as a raw material and surplus hot metal poured in pig casting machine. The Pig casting machine is designed by KBS Paramount & capacity 800 Tonnes per day (TPD). The Blast furnace gas is used for stoves heating, heating of preheating furnace of bar and section mill, heating of boiler ,sinter plant. Slag which is a byproduct is mainly sold to cement plants.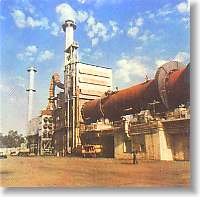 Direct Reduction Plants (DRP):  Based on Krupp's Codir process. The DRPs can produce 2,62,000 tones per year of Sponge iron from iron ore and coal. Additionally, the flue gases help generate 30 MW of Electric power.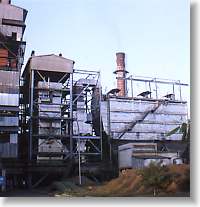 Power Plant (PP): A 30 MW Captive Power Plant is having two turbine set and two boilers. One boiler operates on the flue Gas from the Sponge Iron Plant (Direct Reduction Plant) and the other uses fine coal with fluidized Bed process.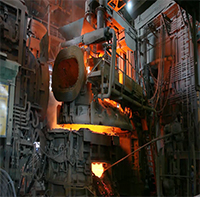 Electric Arc Furnace (EAF): A Mannesmann Demag make 55 Mt. 40 MVA. Ultra high power, Eccentric bottom tapping, water cooled sides & roofs, Auto control, Oxy assisted Melting by side wall blowing etc.
Input – Hot Metal from Mini Blast Furnace, Continuous Sponge Iron feeding, Plant returns scrap.
Output – Molten Steel for Secondary steel Refining.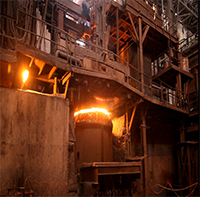 Ladle Heating Furnace (LHF): No. of Furnaces – 02 No.
Make – Mannesmann Demag, Doshi Industries.
Capacity – 55 MT.
Rating – 9 & 11 MVA.
Features – Continuous Alloy Feeding System, Use of C, S, Al wires for close chemistry control, Ar gas Purging.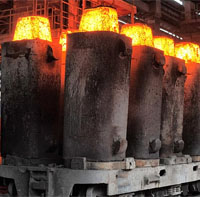 Ingot Casting: With Modem facilities already existing for refining, degassing, and continuous casting of steel, Sunflag considered it is important to widen the current product mix to cater to the needs of specific application segments where ingots are preferred over continuous cast blooms. Accordingly, Sunflag has commissioned a new setup for casting Wide End Up — Bottom Poured Ingots, Our ingot casting facility is capable of producing steel for critical applications like Tool 8L Die, Railways, Defence and Aerospace sector.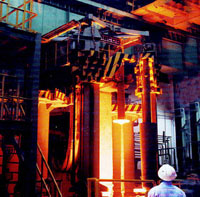 Electro Slag Remelting (ESR)
Product Range: 1.8MT to 22MT
Features:
Pre-defined profiles for various stages of processing e.g. slag resistance setpoint profile or swing setpoint profiles.
Digital Operator interface and data acquisition system.
Furnace head provided with x-y angular corrections of an electrode and total sealed system for argon shielded melting.
Fume exhaust and environment protection hood.
Fully coaxial high current feeding system.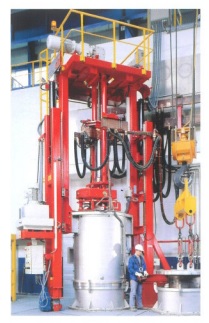 Vacuum Arc Remelting
Product Range: 2MT to 16MT
Features:
Digital Operator interface and data acquisition system.
Furnace head provided with x-y angular corrections of an electrode and total sealed system for argon shielded melting.
Fume exhaust and environment protection hood.
Fully coaxial high current feeding system.
Ultimate vacuum level of 1×10-3 mbar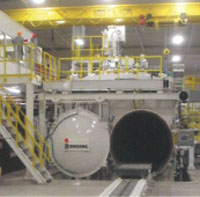 Vacuum Induction Melting
Product Range: 1MT to 6MT
Features:
Furnace equipped with mould height 4000MM
Facility for Rapid exchange of crucible
Multiple mould pouring.
Fully Rollaway head for facilitating cleaning of melt chamber
Ultimate vacuum level of 1×10-4 mbar