By adding rebar reinforcement to the concrete surface, you can easily make the surface much more robust and resistant to cracks. Concrete surfaces that often carry heavy trucks or machinery do not need concrete rebar reinforcement; however, they are required to withstand tension forces.
With the help of rebar reinforcement, the tensile strength of concrete can be increased. Since the concrete is fragile in tension but strong in compression, this process can increase the tensile strength while helping it resist cracking and breaking. With greater tensile strength, concrete becomes resistant to breakage even after putting pressure on it. Rebar helps prevent cracks from growing wider primarily by preventing cracked slabs from moving apart.
Concrete is a solid and durable material that performs exceptionally well during compressive forces, such as heavy vehicle concrete drive-through or road. But even if it is self-sufficient when it comes to strength, with the rebarring process, it becomes even more robust and weight resistant. Concrete also sometimes needs support against expansion and contraction forces that occur naturally with changes in temperature. Underneath a beautiful-looking concrete surface, you'll always find a well-engineered rebar structure that gives the concrete slab, wall, or even curb a beautiful structure and the much-needed strength and stability.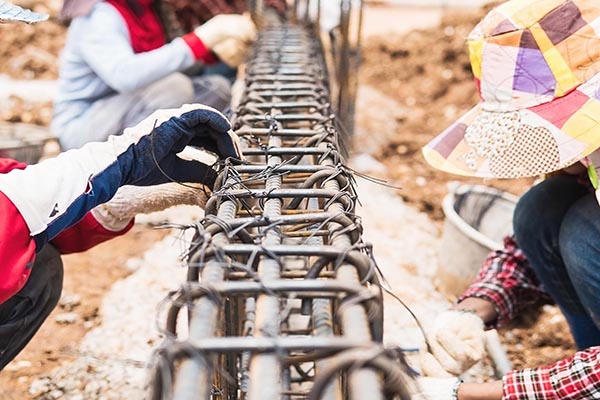 What is Rebar?
Rebar is also known as Reinforcing bar, Reinforcing Steel, etc. In this process, a group of steel bars or a mesh of steel wires is formed to create tension in reinforced concrete and masonry structures. Through this process, the rebar helps build strength and compression by holding the material in a compressed state.
The bars are made of multiple hot-rolled steel materials. Most are made of new steel billets, but the materials are often derived from steel debris or sometimes old railroad tracks. You can find the engraved symbols that indicate where it was produced. You can also find the yield strength on the surface, with can be around 60-75, or metric 420 or 520.
Do You Need Concrete Rebar Reinforcement?
Not all construction projects require concrete rebar reinforcement; however, if you use the rebar reinforcement, it will immensely change the strength of the area. There will be comparatively fewer cracks that appear on the concrete over time. As mentioned earlier, the concrete surface requires to uphold large vehicles, non-stop traffics, which is why they need rebar reinforcement. On the other hand, if your driveway is only expected to uphold the family minivan or a few cars, you might not need rebar reinforcement.
You can also try other options for your household facility, like welded wire mesh made into galvanized panels. They are a perfect solution for residential driveways that are not used daily or driven on by heavy trucks.
We'll be more than happy to assist you in finding the best material for your usage. Connect with us anytime if you have questions regarding concrete rebar reinforcement or anything else.
Share Now
Share on facebook
Share on twitter
Share on linkedin
Recent Posts
Quick Links

Download Brochure